First I have to thank
CrowdTap
for letting me be a Wooliteer and part of the Woolite Extra Dark Care Sampling opportunity.
So I got my Mission packet today! It came with 10 samples to share. The first thing I noticed were how big the samples were, and they are very full - well enough for a whole load of laundry that's for sure! I was thinking they'd be a tiny packet, but look at these: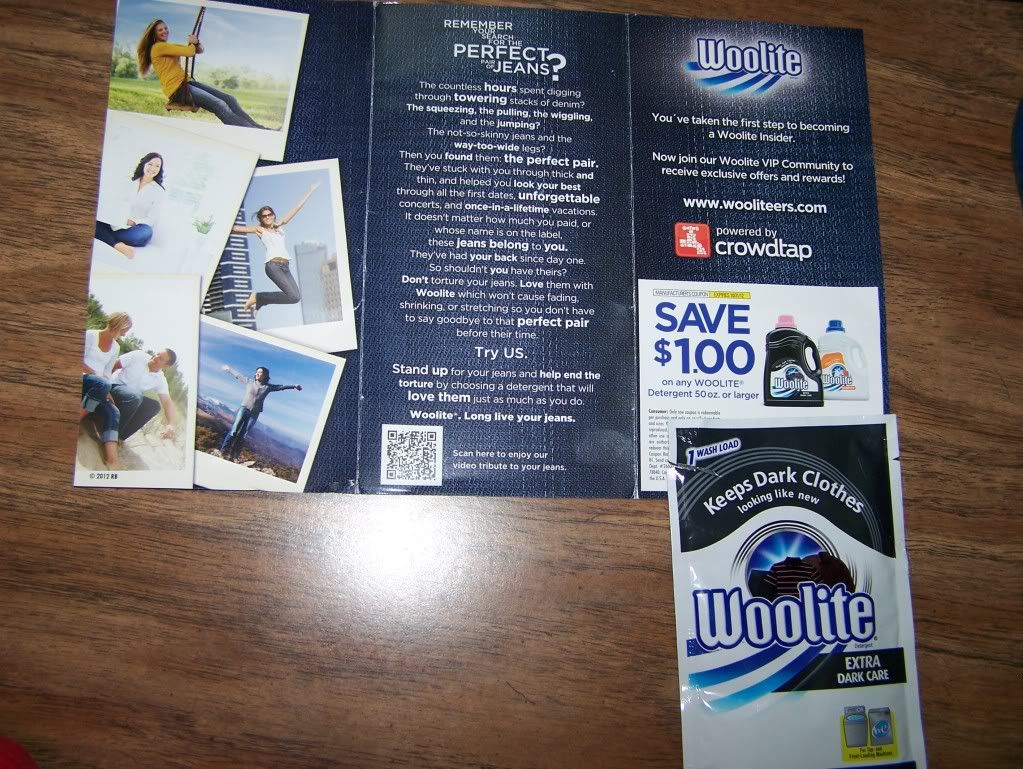 And each sample comes with a $1 off coupon! Free samples and coupons, how much better can it get?
When I think of Woolite I think of underclothes. But Woolite Extra Dark is made for so much more than just your underclothes!
It's perfect for:
Your favorite Jeans
A Vintage T-Shirt
A Wool Sweater
Other articles of clothing that you love
I'm excited to try it on one of my knit creations! I'm thinking I have a blanket I made that I love, but it's kind of grungy and it's too big to hand wash. So I may have to try this Woolite Extra Dark on the blanket.
Woolite's new campaign is "Don't Torture Your Jeans" - They claim that Woolite Extra Dark cleans and cares for your jeans, keeps dark colors vivid, and won't cause fading stretching or shrinking. I love the video for this campaign - I have a weird shaped body so finding that perfect pair of jeans is always a task....
Woolite is really working to get the word out there! Right now they have a promotion on their Facebook Page where you can
"Declare Your Love" for your jeans
and get a $2 off coupon!
So it just so happens that there was a load of dark clothes ready to be washed (in this house there is always laundry, and we don't even have kids yet. I'm scared for that day!) So I opened one of these packets and poured it in with the wash and let it do it's thing. I do have to say how much I LOVED the smell of this detergent. It's kind of floral, but not an overpowering floral scent. I think it's lavender but I could be wrong. That's just what it smells like to me. But it's such a nice scent - I am very particular about the scent of my laundry detergent and fabric softener.
The detergent worked just fine. My clothes came out smelling good and they looked very clean. I don't know how to describe it other than to say that sometimes when I'm folding laundry everything looks like it's been worn - not filthy, just not clean. So I was happy that the Woolite got everything looking nice. All the clothes feel good too. Not too soft - not too stiff. Especially the T-shirts. I hate when I pull a T-shirt out to wear it and it feels like it could stand up on its own - like when the detergent doesn't get completely rinsed out and it gets hung up to dry.
Overall I'm happy with this new Woolite. I'm going to have to use it a few times to see what kind of difference it makes overtime with my dark clothes - and I will be trying it on that blanket. But for now I'll say it did a good job!
What would you like to try Woolite Extra Dark Care on?