I have to say I love Halloween. I don't get dressed up and go trick-or-treating (I don't think anyone would give candy to a 30 year old woman dressed as a princess anyway...) But I love to give out candy and see all the cute costumes that are out there! Some people are so creative. We've only been in this neighborhood a few years, but the costumes I've seen are amazing! My favorite so far was a few years ago a kid was in a wheelchair (he had a cast so I don't think it was a permanent thing). His costume was a toilet! It was so detailed and the kid had a pretty good sense of humor about it. I just loved it! So I've joined up with some other awesome bloggers to bring you a $25 gift certificate to the Wholesale Costume Club - so you can impress me with your costumes this year :-) As always thanks for looking and I hope a Just Jennifer Talking fan wins!
-Jennifer
Halloween is only 3 1/2 months away! Hard to believe, I know. I've been thinking about all of the options for my little girl for Halloween, and yes, I've already started thinking about Halloween costumes for this year. Thankfully, I was lucky enough to be offered an opportunity to review the most adorable Princess Leia costume from the
Star Wars movie costumes
at Wholesale Costume Club.
I chose the
Princess Leia
costume because not only am I just about one of the biggest closet Star Wars fans in the world, but I kept thinking about how ridiculously cute my little girl would look in silly cinnamon-bun hair! And didn't she look adorable? The picture didn't turn out so well because she didn't want to wear the wig/hat, but her Daddy managed to snap the photo before the hair got pulled off of her head. We're going to have to work on that before Halloween gets here.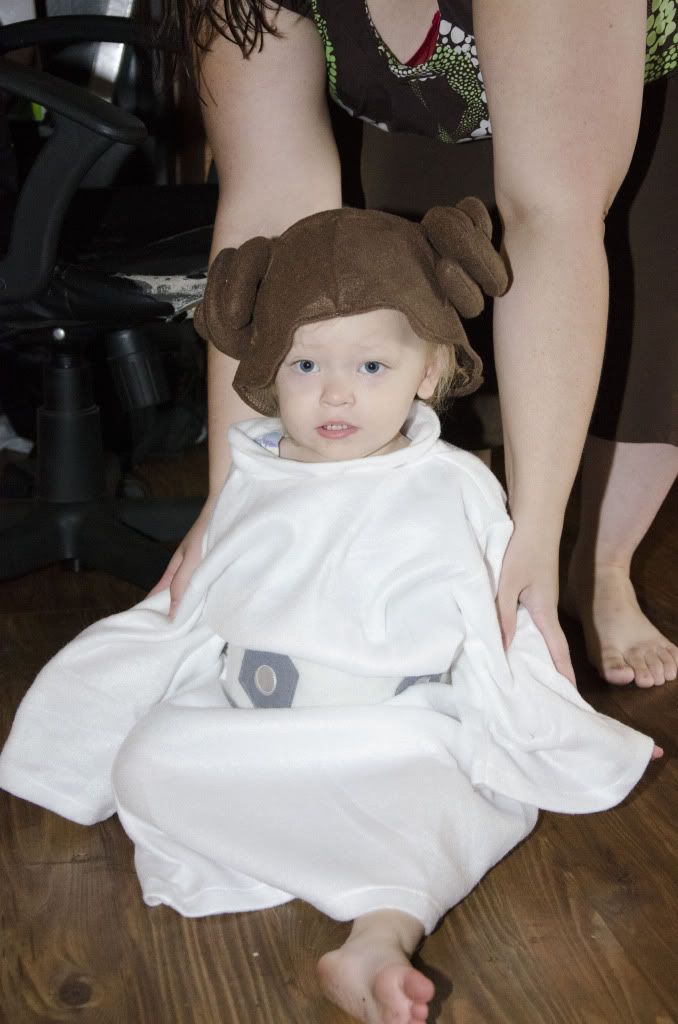 Regarding the costume, I was VERY impressed with the quality of the material. I was expecting the typical nylon, thin fabric that most Halloween costumes are made from, but this was completely different. It seems to be made of a thick, felt-like material that seems pretty durable! I was very surprised! It is unlikely that my daughter will be able to tear this one, unlike her poor tiger costume from last year... I can't wait to take her out Trick or Treating this year! Maybe we'll be able to get her little brother a baby Yoda costume and create a theme out of it. That would be ADORABLE!
Halloween Costumes at Wholesale Prices

Wholesale Costume Club is an innovative new concept in costume shopping. We are the only costume website on the internet that lets you purchase Halloween costumes at wholesale club member or non-member prices that are below the lowest retail prices you'll find on any online costume store.
Thanks to our sponsors at Wholesale Costume Club, one reader will win a $25 gift card/coupon to Wholesale Costume Club! The contest runs from July 12, 2012 through July 19, 2012. Enter using the Rafflecopter widget below! Good luck!
a Rafflecopter giveaway